Our Story
The Adult Changes in Thought (ACT) Study has long been a partnership between Kaiser Permanente Washington (formerly Group Health Cooperative) and the University of Washington. It has expanded substantially over time, with investigators from many institutions across the country and internationally. The study, which has been continuously operated since its start in 1986, is the longest-running study of its kind. It began as the Alzheimer's Disease Patient Registry, modeled after a registry of cancer patients. Now it includes one of the largest populations of extremely old people (over age 85) with collected information going forward (prospectively). The ACT Study was featured in the Alzheimer's Disease International's 2018 documentary, Every Three Seconds, which highlighted ACT's unique Living Laboratory for the study of Alzheimer's Disease and dementia.
The ACT Study places a special emphasis on developing infrastructure that can support a broad program of research activities. As shown in the organizational chart below, our infrastructure consists of 6 centralized cores that support the scientific work of 3 main projects and several affiliated projects.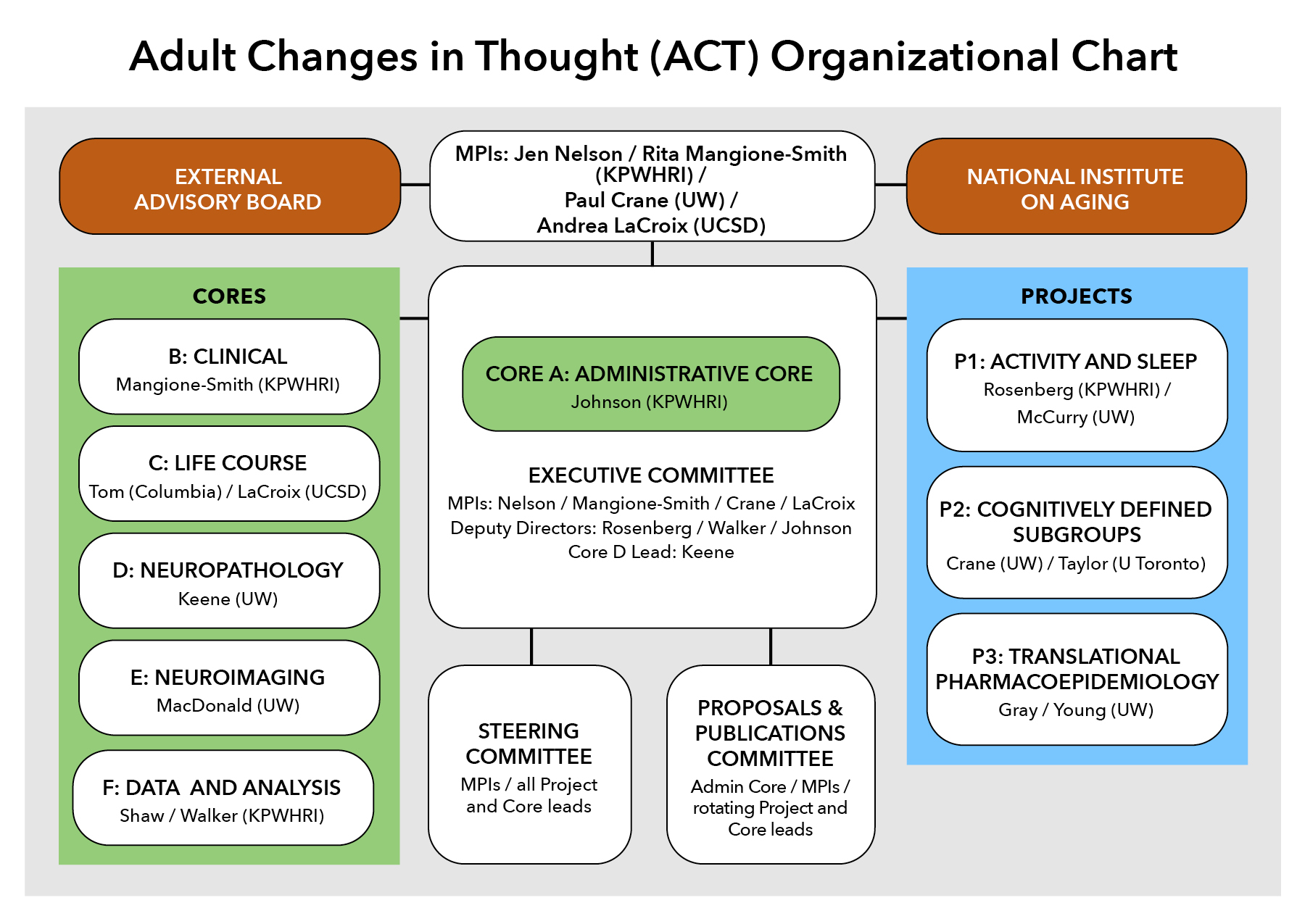 Click image to view larger.
Research Partners
The ACT Study brings many collaborating institutions together, including both early-career and senior investigators with invaluable complementary expertise. Among the research institutions working together on the ACT Study are the University of California-San Diego, the University of Toronto, Columbia University, the Allen Brain Institute, Boston University, Swedish Medical Center in Seattle, the University of California-Riverside, the University of Pennsylvania, the University of Wisconsin-Madison and 9 departments at the University of Washington.